In June, 2016 Disney filed plans for a new four-diamond hotel at Disneyland Resort with the City of Anaheim, California.  The City of Anaheim Visitor and Convention Bureau announced that the plans were approved in May, 2017.  Today, Disney confirmed construction is scheduled to start in summer 2018, opening in 2021, and unveiled new details and concept art.
Details Confirmed
Disney has confirmed plans include a 700-room luxury hotel, located in the west end of the Downtown Disney District.  Plans include two pools, alfresco rooftop dining with views of the park and fireworks, and a dedicated monorail platform inside the hotel for direct transport into Disneyland park.  The new hotel will consist of 4 separate buildings located where Rainforest Cafe, ESPN Zone, AMC Theater, and Earl of Sandwich are currently located: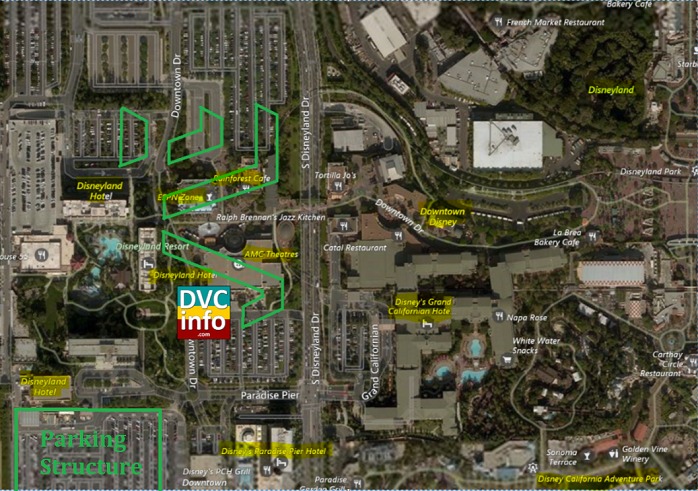 Tax Incentives/Benefits
The planned resort would take advantage of the City of Anaheim Hotel Incentive Program, which was approved on June 16, 2015 and provides significant incentives to developers of Four Diamond Hotels within the City of Anaheim, in exchange for the estimated $25 million in new tax revenue (over 5 years), temporary construction jobs, and permanent jobs generated by the resort.
DVC Rumor
According to one rumor, the plans now include the addition of a 125-room Disney Vacation Club wing, which would be the second Disney Vacation Club resort at Disneyland if these unconfirmed rumors are true.  According to this rumor, the DVC building would be a 5th building located between the new hotel and Paradise Pier hotel (shown in red below):

Check back for updates as details are confirmed.